Anti-Heeling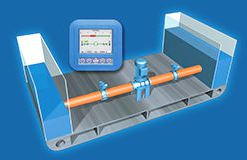 The Anti Heeling System enables safe and continuous loading or unloading operations for e.g. container vessel, RoRo carrier, ferries, project carriers, heavy lift and offshore construction vessels in much reduced time.

The heeling compensation is automatically achieved by transferring ballast water between the heeling tanks, controlled by Hoppe's microcomputer HOMIP, based on continuous measurement of the heeling angle.
Flume Roll Damping
A FLUME® roll damping system is a passive free surface open channel type anti-roll tank. It has the unique ability to adapt to changes in load and operation conditions. By a simple change in the liquid level, the natural response period of the tank can be adjusted to the roll period of the ship. However, obtaining and maintaining the correct operational condition of the stabilizer is difficult at sea due to the constant and turbulent movement of the liquid within the tank. FLUME® has developed the Liquid Level & Roll Period Indicating System and the Phase Sensing System to monitor the movement and control the anti-roll tank to assist the crew in achieving the most effective roll stabilization.
Tank Content Measuring
The system continuously monitors the contents and temperatures of ballast, cargo, fuel oil, and other liquid tanks. Additionally, the vessel's draught can be measured precisely by using Hoppe's Draught Measuring System.

The state of the art PLC unit HOMIP acts as the signal hub between all process components and control workstations or other centralized ship management systems with serial Ethernet or RS 485 interfaces. The integrated 6" touch screen display offers a clearly structured and easy interface for system configuration, parameter settings, and full back-up operation.

The system setup is especially designed for decentralized installations. As a result of Hoppe's vertical responsibility approach, the tank content data does not need to be subjected to any further processing.
Valve Remote Control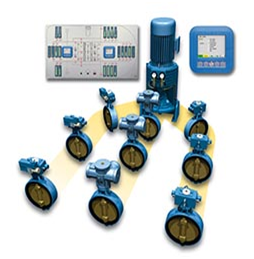 The system is designed for remote control of pneumatic, hydraulic, electro-hydraulic, or electrically operated valves as well as pumps used in ballast, bilge, fuel oil, and liquid cargo systems.

The state of the art PLC unit HOMIP provides the signal hub between all process components and control workstations or other centralized ship management systems with serial Ethernet or RS 485 interfaces.

The integrated 6" touch screen display offers a clearly structured and simple interface for system configuration, parameter settings, and full back-up operation. The system setup is especially designed for decentralized installations.
Ballast Management
Handling of ballast water, especially ballast treatment, based on IMO requirements has significant impact on the efficiency of the vessel's operation.

The Hoppe Ballast Management System is a sophisticated and user friendly software solution supporting all ballast water operations. The vessel's loading case, stability information, hull stress and floating criteria, e.g. optimum trim can be considered to determine improved ballast operations.
Hoppe Shaft Power Meter
The Maihak Shaft Power Meter makes use of the Maihak vibrating string sensor. This sensor is very accurate and reliable, long-term stable and calibrated like a calliper gauge.

The torsion of the shaft is transmitted to two shaft rings, which are clamped on to the shaft. The change in frequency of the vibrating strings measures the torque.

External influences such as temperature, centrifugal forces and shaft bending will affect both sensors equally. Using two Maihak sensors thus compensates these external influences.
Oily Water Separator
RWO's more than 40 years of experience and the excellent performance of our oil/water separators guarantee a high-performance standard, more than 15,000 ships have already been equipped with this efficient system.

The OWS-COM oily water separator complies with the actual IMO Resolution MEPC.107(49) using the combination of the highly effective open porous coalescer together with a second stage emulsion breaking oil and hydrocarbon polisher.

The RWO oily water separating system is equipped with a 15 ppm oil content alarm device, type tested and approved in accordance with IMO Resolution MEPC.107(49). During flushing of the alarm device the 3-way diverting valve works in recirculation mode (automatic stopping device)
Ballast Water Management
RWO's Clean Ballast® system is one of the very few ballast water treatment technologies that can withstand the uncertainties of the future.

Its two-stage treatment principle consists of proven filtration technology combined with our advanced electrochemical disinfection - and guarantees a rapid and reliable handling of ballast water.

Designed for and tested under real-life conditions, it has passed several examinations and is certified by the most important societies. The system is part RWO's Total Water Management offer.
These include:

Federal Maritime and Hydrographic Agency (BSH Germany)
Russian Maritime Register of Shipping (RMRS)
Product Design Assessment by Germanischer Lloyd (GL)
Acceptance as Alternate Management System (AMS) by USCG
Reverse Osmosis
RWO provides reliable and long-lasting equipment. The reverse osmosis plants are designed for automatic operation and require little or no maintenance.

It is Compact design available in all required capacities and is easy to install and operate. You get Perfect water quality
Engine Order Telegraph
INELTEH's Emergency Engine Telegraph type EET1 is designed for use on the ship. It is used for transmitting orders from wheelhouse to the engine room. The device is produced in accordance with the major Classification societies regulations.

System includes:

_ TRANSMITTER type EET1-Tx, situated in the wheelhouse _RECEIVER type EET1-Rx (one or more), situated in the engine and/or engine control room The orders are transmitted from transmitter unit EET1-Tx, by using switch button. Corresponding LE diode, which belong to issued order start blinking. Audio alarm is on. When the order is confirmed on receiver unit EET1_Rx,buzzer stops, and corresponding LE diode lights. If wrong way alarm occurs, buzzer will notstop, and LE diode "WRONG WAY" will lights. In case that two receivers EET1-Rx are incorporated in system, only one can be activated (by push button "Rx ACTIVATED") andused for order confirmation
Navigation Light and Control Panel
The Navigation Light and Control Panel is used to control operation of navigation lights on board ships. Audible and visual alarm is activated if there is a fault in circuit or lamp.

Equipment consists of the main unit ITNSL-01T for flush mounting, input modules for lanterns connection and power supply unit ITNSLP-01 for mounting inside of bridge console. Modular concept save space on bridge console and allows easy system configuration.

Due to big colour graphic LCD display for lights position and condition presentation and built-in software, ITNSL-01 is fully user programmable. Any sample can be programmed to meet specific ship requirement, even after installation.
Flood Detection System
Flood alarm system is designed for use on board ship to alarm crew in case of flooding. System comprises two main parts, flood sensors and main flood alarm unit. Flood sensors detect when waterlevel increases beyond a pre-determined level and sends signal to main alarm panel.

Main alarm unit receives signal from flood sensors and alerts crew. In addition, system, can be upgraded with secondary alarm panel, signalling devices...System can be centralised (all sensors collected on one place) or distributed (local I/O units, with serial communication with central unit), in this way system is adaptable to size of ship.
Steering Gear MT500-60000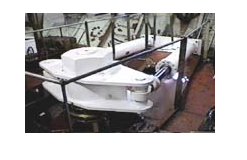 Hand and electro-hydraulic steering gears ranging from 0.5-60 T.M. The steering gear is suitable for one, two or more rudders, either with connection bar or electrical synchronizing

Key Features
Wheel pump
Non-return valve
Flexible hoses
Base plate with support bearing
Tiller with keyway and bolts
Reefer Monitoring System
RTE offers the Refrigerated Shipping Industry the most complete and comprehensive line-up of Remote Reefer Monitoring Solutions available. GRASP™ 3.0 is the next generation of monitoring and control software. A powerful and intuitive system that allows the user to download trip records, PTI reefers, and much more. By using XML interface, you have the ability to interface with TOS, 3rd party software or customize your own solution. RTE's system

is available both as web-based and Microsoft Applications. GRASP™ 3.0's modular design allows the flexibility to add combinations of RTE's RRCE Family, GRIP and PCT communication platforms under a common database and MMI.
Alarm and Monitoring System
The Mega-Guard Alarm Monitoring and Control System (AMCS) is the perfect automation solution for medium to large size vessels. It can be used as a stand-alone Alarm Monitoring and Control System or the Mega-Guard can be extended with power management, cargo control, propulsion control, integrated navigation and dynamic positioning functions.

The Alarm Monitoring and Control System executes the following functions:
Alarm and monitoring
Exhaust gas monitoring
Tank Gauging
Master and stand-by pump control
Motor and Pump starter
Compressor Control
Valve control and monitoring
Temperature control (PID)
DP Dynamic Positioning System
The Mega-Guard Dynamic Positioning System (DP) automatically controls a vessel's heading and position. The Mega-Guard Dynamic Positioning System (DP) automatically controls a vessel's heading and position by activating thrusters based upon data as received from position reference systems, gyrocompasses, wind sensors and motion reference units.

The Auto Track mode allows the ship to move along a pre-defined track at low speed as defined by the operator. The Mega-Guard DP and JC system are suited for e.g. supply vessels, tug boats, dredgers, cable and pipe laying vessels, FPSO's, heavy lift vessels and mega-yachts in full accordance with the applicable classification and IMO rules (DP1, DP2 and DP3).

Our system can give accurate positioning better then 0.5 meter accuracy in combination with DGPS and MRU (inclinometer). Higher position accuracies can be achieved with e.g. a laser beam positioning system.
Propulsion Control System
The control units of the BUK-series are console mounted lever units designed for propulsion or transverse thruster control. They come in single or double lever execution with either spherical knobs or cross bars. The BUK-B is the largest unit and can be supplied with an integrated emergency order telegraph system of the pointer type.

It is made of a seawater proof aluminium alloy and executed with two side dials and one peripheral dial and has room for integrated pushbuttons, signal lamps, dimmers, or buzzers. The BUK-C is a medium sized unit with a similar appearance as the BUK-B. It is also made of a seawater proof aluminium alloy and has one peripheral dial. The BUK-C Extended comes with integrated pushbuttons, signal lamps, dimmers, or buzzers. The BUK-C Special is for transverse thruster applications.

The dials of the BUK-B and BUK-C are protected by means of an unbreakable, transparent and UV proof protective covers. All decorative parts are black anodized or black painted. The BUK-G is a small sized unit especially designed for yachting applications. It can be supplied with a spring return feature e.g. for transverse thruster applications. The BUK-H is the latest addition and has been ergonomically designed with the benefit of zero build-in depth for the standard execution with potentiometers.
Satellite TV
DSi9 Ka - Evo is the EPAK®'s all new maritime VSAT tracking antenna operating in Ka-band, that brings to you the fastest satellite internet connection.

Due to the new Ka-band technology indeed, the DSi9 Ka - Evo reaches breath-taking speeds both in download and in upload - via satellite! The DSi9 Ka - Evo is the perfect solutions for high data-volume demands on boat: its impressive speed both in download and in upload is ideal for those Internet services and applications such as video phone calls, music and video streaming.

Due to the solid, rugged and robust design the antenna is made to meet even the hardest requirements in harsh seas.
Internal Communication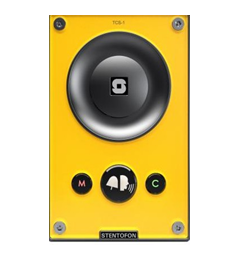 Zenitel are one of the few companies in our markets that can deliver fully integrated Communication Platforms that include Intercom, Public Address and 2-way Radio Systems.

By offering integrated, type-approved and certified systems for Communication, Data, Safety and Entertainment for more than 70 years, we have gained the reputation as a supplier of the most flexible, reliable and advanced communication systems available. All IP Intercom stat ions in the Vingt or-Stent of on Turbine series utilize the latest technology to create unparalleled audio quality.

Some of the many features include: HD voice quality, Open Duplex, Active Noise Cancellation, MEMS microphone, a 10W Class D amplifier and our unique speaker grille design. These features, in conjunct ion with Vingt or-Stent of on's 65+ years of experience with acoustic technology are only a few of the many factors that contribute to our superior audio quality.
Ship Movement Information Display System
Navigating or manoeuvring in strong winds or currents and in confined waters requires great skill and places severe demands on masters and pilots.

Reliable and accurate information on ship movement is essential to maximise safety, reduce the risk of structural damage to ship and shore infrastructure and minimise the threat of accidental pollution.

Highly sensitive, and accurate to 0.01knots, SMIDS will detect and display vessel movement instantly - often before it is visibly apparent - ensuring vessel movement is precisely controlled and corrective action can be taken at the earliest opportunity.

It is the perfect solution for large vessels, those where bridge visibility is restricted, lightering, dredging and for ships that frequently manoeuvre without tugs in adverse conditions.
Fleet Broadband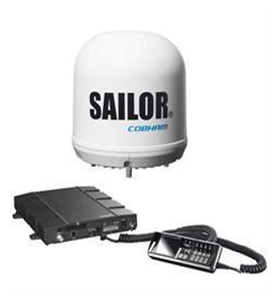 The Thrane SAILOR 150 Fleet Broadband features the smallest, lightest Fleet Broadband antenna to date, which enables simple user-installation, so smaller professional vessels and larger yachts with a requirement for reliable, high quality global internet and voice communication can enter the broadband era with a true IP solution for the first time.

The new SAILOR 150 Fleet Broadband satellite terminal widens the possibilities of high speed internet access at sea and provides the opportunity to have the internet on almost any vessel. Based on the same design values and high quality build as the market leading premium SAILOR Fleet Broadband solutions, SAILOR 150 Fleet Broadband ensures that smaller and more vessels can experience the same reliability and ease of use that high-end SAILOR systems offer.

SAILOR 150 Fleet Broadband offers several benefits that until now have not been available in a single solution designed for smaller vessels. Important functionalities: -Voice and data simultaneously -IP connection for e-mail and internet/intranet access -Rugged IP Handset -Digital satellite phone service with exceptional call quality.
GMDSS
The Inmarsat-C is a communication system, which enables the user to send and receive data to and from mobile terminals. The Inmarsat-C system provides the possibility of reaching remote areas where other methods of communication are impossible

The TT-3000E system is a SOLAS GMDSS installation that provides maritime distress capabilities. This section gives an overview of how the maritime safety system works and how this applies to this particular installation type. It is important to understand that this section is only meant as an introduction and it cannot replace proper education in safety and rescue at sea.

The term 'SOLAS GMDSS' designates GMDSS equipment and installations that lives up to the SOLAS convention - typically installations on ships subject to SOLAS chapter IV.

The main purpose of having safety communication equipment like the TT-3000E GMDSS system is to be able to send and receive important information
EPIRB
An Emergency Position Indicating Radio Beacon (EPIRB) is a safety device carried by a vessel to alert search and rescue services and allow them to quickly locate you in the event of an emergency. When activated it transmits a coded message on the 406 MHz distress frequency which is monitored by the COSPAS-SARSAT satellite system. The alert is then relayed via an earth station to the nearest Rescue Coordination Centre (RCC). As the satellites are in a polar orbit they offer true global coverage - with an EPIRB you can summon help wherever you are on the planet, no matter how remote.

EPIRBs are supplied as standard with a mounting bracket and must be manually activated, however a SOLAS Auto Float Free Housing is also available which automatically deploys and activates the EPIRB when it is submerged.

An EPIRB forms part of the GMDSS mandated equipment package required by law for all commercial vessels over 300 tons, however many non-mandate vessels and leisure boats choose to carry an EPIRB to improve safety and they have been responsible for saving hundreds of lives since they have been introduced.
Search and Rescue Transponder
A SART forms part of the GMDSS mandated equipment package required by law for all commercial vessels over 300 tons, however many non-mandate vessels and leisure boats also choose to carry a SART to improve safety.

The S4 Rescue SART is a compact, lightweight Search And Rescue Transponder designed to meet the stringent IMO and GMDSS requirements for aircraft and shipping. It will operate reliably even in the most demanding environments giving you total peace of mind in an emergency, enabling rescue services to pinpoint your location on their radar display.
VHF
The Ray50 features a large display with easy-to-read digits and icons that are visible day or night. The Ray50 features a premium quality speaker and is also equipped with Class D Digital Selective Calling (DSC) with simple to use controls and an intuitive menu system. You'll be a Ray50 expert in no time!

The Ray50 features standard NMEA2000 and NMEA0183 networking for simple connection to onboard systems and it integrates seamlessly with Raymarine Light House II Multifunction Displays for advanced DSC functions. The Ray50 offers flexible mounting too. Use the included trunnion bracket to attach the radio to any console, bulkhead or overhead. The radio can also be flush-mounted using its convenient front-mount attachment points. The Ray50 boasts a wide array of standard features including NOAA weather alert, dual-watch, tri-watch, scanning, selective scanning, and much more.
IBS (Integrated Bridge Systems)
With the advancement in networking technology, the modern navigation sensors either have the capability to deliver data in a standard protocol or can easily be made compliant to networked environment by using suitable interface units. The capability of a sensor can be enhanced manifold, by sharing the information on an integrated network. Such a system would comprise the Integrated Bridge System (IBS).

The main purpose of IBS is primarily to enhance the operational efficiency on board ships by provisioning of Bridge navigation information in a networked environment to all users/ Operators from various workstations. The system is designed to collect, process and present navigational and other relevant data to improve the efficiency of the ship's navigation and safety at sea.

The Integrated Bridge System which represents the very pinnacle of navigation expertise and technology, combining industry leading equipment and dynamics in one system. Designed by mariners for mariners, the user-friendly interface and superb redundancy ensures greater efficiency and an increased level of safety at sea. The IBS shall provide an integrated solution and functional capabilities for all Navigation sensors and Steering Control ensuring better safety of navigation and higher operational effectiveness.
Raymarine Radar
Raymarine Quantum Radar, by FLIR, is the next generation of marine radar featuring CHIRP pulse compression technology. Setting a new standard for compact solid state radar, Quantum delivers superior radar imaging on both long and extremely short ranges. Integrated Wi-Fi and thin cabling simplifies installation plus Quantum's energy efficient and lightweight design provides safe radiated emissions and substantially reduced power consumption.

Key Features / Benefit Summary

Simple Wi-Fi connection between Quantum and any Raymarine Lighthouse II powered MFD
Quantum's small diameter power cable is easy to route through tight spaces
Easy to upgrade - Quantum uses the same bolt pattern as previous generation radars. Optional Quantum adapter cable eliminate the need to run new radar cables
Weighs 50% less than traditional magnetron radars
Safe Emissions thanks to Quantum's low power solid state radar transmitter
Very low power consumption (17 Watts transmit and 7 watts standby)
Extended vessel battery life when under sail
MFD
Elegant, flexible and simple to use, gS Series multifunction displays will transform your helm station into a powerful glass bridge navigation system. Each gS Series display is a smart, self-contained multifunction navigation display delivering super-fast and responsive performance.

Screen Sizes: 9.0" | 12.1" | 15.4" | 19.0"

Key Features / Benefit Summary:
Smart displays - a step beyond black box systems, each gS Series is a smart touch screen MFD
gS Series displays with Light House II are the pinnacle of simplicity and performance
Smooth and responsive multi-touch control with pinch to zoom
Create a single display installation or expand gS Series into a multi-station system, the choice is yours.
For added flexibility, gS Series systems network seamlessly with any Light House II powered Raymarine MFD, allowing you to customize a navigation network that's just right for you.
4 models to choose from: 9", 12.1", 15.4" and 19"
AIS
Operating in the VHF maritime band, the AIS (Automatic Identification System) system enables the wireless exchange of navigation status between vessels and shore-side traffic monitoring centers. Commercial ships, ocean-going vessels and recreational boats equipped with AIS transceivers broadcast AIS messages that include the vessel's name, course, speed and current navigation status.

Key Features / Benefit Summary
Transmit your position. Fitting a Class A or Class B AIS transceiver ensures that you are seen by other AIS equipped vessels.
Vessel Protection. As part of a suitably configured network, AIS enables owners to be alerted to unauthorized vessel movements.
Port management. AIS can be used as a highly effective port management tool allowing easy identification, control and direction of vessels.
Coastal surveillance. AIS and radar can be fused to create effective and efficient coastal tracking, surveillance and safety systems
GPS
The antenna can be used to improve the reception of your Multifunction Display's built-in GNSS (GPS / GLONASS) receiver and can be mounted either on a flat horizontal surface or on a suitable pole

Key Features / Benefit Summary:
Optional external GPS patch antenna for use on all a9, a12, eS9 and eS12 model MFDs (MFDs Internal GPS antenna must be ON)
Ideal for installations where the display is mounted below decks or under a hard top
Flush or pole mount capabilities
Includes a 10 meter Cable
ECDIS
The Danelec ECDIS range is Wheelmark approved by DNV GL, and complies with all applicable IMO requirements defined in MSC.232(82), as well as the revised IEC and IHO performance standards mandatory for all new and existing ECDIS installations by August 2017.

Featuring the smallest, most compact ECDIS system available on the market, Danelec ECDIS products offer the same high quality and reliability already known from our VDR platform, together with an unmatched flexibility for easy installation on all bridges.

Our broad and flexible Danelec ECDIS product range is built on one technology platform, providing the most compelling ECDIS retrofit solution, through several alternatives to suit every need:

Key Features / Benefit Summary:
Compact, application-specific ECDIS hardware options with essential or enhanced features
A range of military-grade low-power LED monitors available in three sizes (19", 24", 27")
Multiple keyboard choices with several mounting possibilities
Standalone application or console installation options
Fish Finder
Dragonfly PRO models feature built in Wi-Fi. Anglers can stream Dragonfly sonar data right to their smartphone or tablet with the Raymarine Wi-Fish™ mobile app. The Wi-Fish mobile app puts Dragonfly sonar vision right in the palm of your hand, plus you can rewind and capture sonar images to share online with friends.

Key Features / Benefit Summary:
Award-winning wide-spectrum CHIRP Down Vision™ sonar for photo-like images, high-speed tracking and better deep water resolution
Includes transom-mount CHIRP transducer with temperature sensor
Connect with the free Wi-Fish mobile app for iOS and Android devices (iOS7 or Android 4.0 min)
Pause, zoom, and rewind the sonar right on your phone
Save your favourite catch and share with friends online
Speed Log
The Anthea is a new generation of electromagnetic speed log dedicated to small ships or pleasure boats. It uses an " intelligent " sensor. The unit comprises a low speed alarm that can control an audio detector. This detector can be inhibited using the keyboard on the log front face. This alarm is very helpful on board.

In fact, the detection of the tension modification via the speed measurement is faster and more sensitive than via attractive stress measurement.
Wind Speed and Direction Indicator
The Gill Wind Observer II is a precision, solid-state ultrasonic anemometer which has been type approved by the Lloyds Register for use in marine and offshore applications. The Wind Observer II provides wind speed and direction data via 1 digital and 3 optional analogue outputs and features and IP66 rated stainless steel housing, which is particularly suitable for use in salt-water environments.

Offering a high wind speed measurement range, this anemometer has an optional de-icing system enabling the sensor to operate effectively in environmental conditions experienced at high altitude or at sea and is recommended for use in aviation, marine and offshore applications.
Echo Sounder
The Stored data can be displayed graphically as well as digitally in a special data history window accessible with a single keypress, and can be uploaded to a PC for off-line processing and analysis.

A graphics printer can be plugged into a devoted rear panel connector to print out a monochrome hard copy of the current echogram. Echogram feed rate can be changed in 3 steps for extended display period across the screen without affecting the sounding rate.

An extensive alarm function audibly and visually warns the navigator against decreasing depth, missing or weakening bottom echo, power supply voltage drop and power outage.

Both AC and DC power supplies are built in, with automatic switchover to DC power source in the event of AC power line failure. Complies with IMO Resolution MSC.74(69) and Wheel Mark regulations.
VDR
HLD-VDR 600 / SVDR600 are Highlander's best and most stable voyage data recorder to date. It is the fruition of nearly two decades of endeavour in the challenging field of maritime black boxes and embodies the wealth of experience gained from VDRs fitted in thousands of seagoing vessels around the World.
HLD-VDR 600 / SVDR600 fully meets the requirements of IMO A.861(20), MSC.333(90), MSC.163(78), IEC 61996-1 Ed.2,IEC91996-2 and IEC 60945 and carries MED, CCS and other certifications.
The new "Hi-Cloud" remote connection facility is the way to harness the HLD-VDR 600 / SVDR600's full potential. Comprehensive ship's data is easily and economically made available to shore side users for optimization of fleet management with existing IT infrastructure with both field and mobile devices. "Hi-Cloud" is also a handy tool for servicing bridge electronic equipment, providing accurate information about the functionality of all many sensors and devices that are recorded by the VDR
Magnetic Compass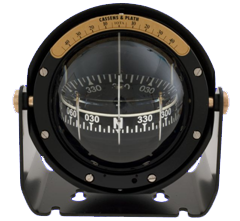 Cassens & Plath spherical magnetic compasses have been designed for professional coastal navigation, for larger yachts as well as in special types for navy sped boats. Resistant against shock and vibration. Accuracy, temperature and dynamic characteristics meet international standards. A certificate based on individual testing of every instrument grants the high quality of all our products. The modularity of all compass components form a perfect team to meet manifold applications. Quality, reliability and precision is guaranteed for all Cassens & Plath products.
Gyro Compass
Northrop Grumman Sperry Marine has over 100 years of experience designing and manufacturing equipment that mariners can depend on for marine navigation. We have developed a wide range of gyrocompass accessories that have been especially designed to provide maximum efficiency and convenience for mariners. This includes our wide range of gyrocompass accessories, which enable you to choose the equipment you need to meet your full navigational requirements, as well as to add additional accessories that suit your particular needs.

Console repeater compass 360°/10°
Built-in heading source indication and dimmer
Size 192 x 192 mm
Magnetic heading console repeater 360°
Built-in heading source indication and dimmer
Watertight in bracket
Bulkhead repeater compass 360°/10°
Built-in heading source indication and dimmer
Watertight
Terminal box
Bulkhead repeater compass 360°/10° with wall mounting bracket
Built-in heading source indication and dimmer
Watertight
Terminal box
Bearing repeater compass 360°/10°
Built-in heading source indication and dimmer
Watertight
Terminal box

Available in three versions:With bearing repeater bracket
With adjustable bearing repeater bracket
With bearing repeater stand
Porta Scanner
Portascanner® II is the portable Ultrasonic Watertight Integrity indicator- for testing watertight and weather - tight seals. It is ideal for checking the hatch-covers, doors, cable transit areas, scuttles, flanges, shell doors, steering gear hatches etc.

Designed primarily to enhance the ease and accuracy with which critical watertight, airtight or weather tight seals can be inspected for leak sites or areas of reduced compression in the seal.
Porta Monitor
Portamonitor® is a pocket size condition indicator tool which employs powerful monitoring techniques to analyse the health state of rotating machinery especially with regards to the health and lubrication of bearings With its magnetic sensor head the Portamonitor ® can be attached to machineries outer casing and takes readings over a short period to assess the condition of the moving parts within.

An overall noise decibel (dB) level is returned along with a distress level after measurement that can then be quickly analysed and compared to other readings in order to discover if preventative maintenance is required.

Hardy and robust, the Portamonitor TM can take 1000 readings between charges, which is done through a standard USB lead for easy charging anywhere.
Porta Level
The Portalevel® MAX is the latest generation of the Portalevel® line and is designed to provide enhanced Speed, Operation and Performance, especially for high intensity testing requirements.

The unit is also the first UL Approved Ultrasonic Level Indicator we have ever produced and builds further on our history of over 27 years manufacturing this equipment.
Porta Marine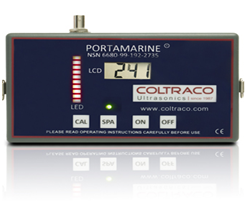 The Portamarine® is an upgraded version of Coltraco Limited's previous Portamarine generation, providing an updated solution, tailored specifically to Marine requirements.

The Portamarine® has been specifically designed for testing multi-banked CO2 Cylinder Fire Suppression System Cylinders, stored in 2, 3 or 4 rows deep, to make the process as quick as possible to complete.

It can also operate on the vast majority of other fire system agents including FM200™, NOVEC 1230™, Halon (for Defence applications) and all other clean agent systems. The equipment is fully Classification Society Approved, accurate to +/-1.5mm and proves a significantly safer and quicker solution when compared to weighing as a means of identifying cylinder content..
Fire and Smoke Detection System
The fire detection main unit AFMS-3000 is an easy to operate system equipped with 2, 4, 6 or 8 detection loops. It is type approved by German Lloyd (GL) according the Marine Equipment Directive 96/98/EC (MED).

Designed as an addressable system an individual address and alarm text is assigned to each fire detector allowing easy locating of fire or fault signals. The fire detection system can be combined with DECKMA smoke detection- and local application fire fighting systems and merges all fire alarms centralized on just one Display.

Small dimensions of the AFMS-3000 allow installation of the unit directly in the bridge console so a remote control or parallel tableau is not required. Of course wall mounting is also possible. The console mounting version has got an external terminal box witch contains all input and output terminals, the power supply unit and the emergency battery with charging unit.

Equipped with different potential free alarm contacts external sirens and beacons can be connected and alarm signals can be forwarded to an already existing general alarm system. The outputs of the AFMS-3000 can be assigned to certain zones, groups or even to individual fire detectors. As an option we can offer communication modules for a standard parallel "Centronics" printer and communication with the NMEA 0183 protocol to connect to a VDR or visualising system.
H2SGas Detection System/R134A
Marine Industry regulations require that vessels have at least one portable gas monitor on board for oxygen and explosives. In higher classifications, they also need an instrument for toxic gases (example: H2S). Most regulations state that a vessel must also have a backup instrument.

This means that one vessel usually requires two instruments. Marine applications are often very harsh. Extreme temperatures, humidity, operational grime, and hard surfaces are the main components of the harsh maritime environment in which our Gas Detection System operate.
Cable Transits Leak Detection (PORTA LEAK)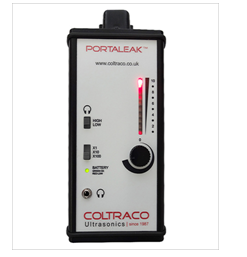 Our Portascanner™ Watertight package will shortly be available with optional accessories including Portaleak™ a portable ultrasonic leak detector for gas leak detection & Portascanner™ Evidential for the recording of Portascanner™ Watertight readings.

Together with Portamonitor™ Bearing Indicator this will provide a complete array of capability for watertight integrity testing of ships and offshore platform watertight compartment doors, hatch-covers and multiple cable transit areas - offering dual Decibel and mathematically Linear displays - the first of its type in the world - plus condition monitoring.
HATCHCOVER (PERMASCANNER)TM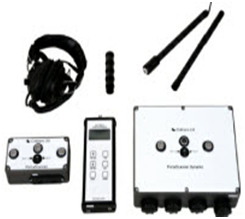 PERMASCANNER® DYNAMIC is our semi-fixed ultrasonic watertight integrity test indicating system for the dynamic testing of hatch covers, holds, bulkheads, cable transits and watertight doors and compartments at sea.

Derived from its sister product the Portascanner®, Permascanner™ Dynamic is designed to quickly identify leak sites in their extent and precise location, whilst at sea.

Permascanner® Dynamic allows a pattern of readings to be recorded against varying sea states, enabling a true picture of the seal integrity to be recorded over time.
LRAD
LRAD 300X-RE is a compact, lightweight solution for use on small vessels, CROWs and vehicle mounted armor. It can be easily transported to provide security personnel long range communications and a highly effective hailing and warning capability where needed.

LRAD 300X-RE produces nearly 100% intelligible voice transmission over 88dB of background noise beyond 350 meters and beyond 1500 meters in a benign environment. LRAD 300X-RE operators have the ability to issue clear, authoritative verbal commands, followed with powerful deterrent tones to enhance response capabilities.

The extended frequency range of LRAD 300X-RE ensures voice commands will be clearly understood.
Thermal Cameras
Raymarine's T Series thermal night vision camera systems use cutting-edge Ethernet connectivity for easy installation, control, and interface with other on-board electronics. The rugged, waterproof gimbal enclosure provides a continuous 360° pan and ±90° tilt for an all round view.

Key Features
Full pan, tilt and zoom capabilities
Integrated multifunction display control
Thermal only or thermal/lowlight multi sensor configurations - see ordering information
Standard and high-resolution thermal night vision camera options
2x zoom on all models, the high resolution option provides an additional 4x zoom
320 x 240 standard resolution, or 640 x 480 high resolution format providing improved image detail and range performance.
Network ready
Rugged construction to withstand harsh conditions
Window de-ice heaters for clear vision even in ice and snow
Standard NTSC or PAL video outputs that can be viewed on any monitor with an auxiliary video input.
Pre-set gain adjustments for optimal image quality in various conditions
On-screen icons show what the camera is doing and where it's pointing
Search Light
With the addition of the brand new 420RCB searchlight, DHR completes her line of searchlights with a product designed for heavy duty applications.

A perfect solution for tugs, workboats, cargo vessels or even larger inland vessels, this type of searchlight is easy in use and made for the job. Installation is straight-forward, due its well-thought mechanical and electrical design.

As it is the feather-weight among the competition, positioning and mounting of the 420RCB will be done in an instant. The effort of any maintenance actions, is reduced to a minimum. An impressive optical system in combination with a robust and compact design, makes it a unique, distinctive and high-quality searchlight.
Pipe and Cable Sealing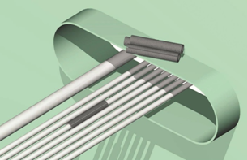 BEELE Engineering is dedicated to fire and safety. The NOFIRNO rubber grade which is compounded under strict conditions is suitable for gas and water tight ducting and for fire rated applications as well. The NOFIRNO multi cable penetrations are the best alternative to the casting compounds and block systems used in fire rated/watertight bulkheads and decks. NOFIRNO rubber grade has excellent properties and will not be consumed by fire.
Polytron MTC
Polytron MTC (Metal Treatment Concentrate) is an antiwear oil additive that protects metal parts from wear and tear, but unlike other such additives, Polytron MTC is polarized. This means that when it is applied, the elements in the MTC are attracted to the metal surfaces where they permeate into the metal structure.

Then, through a metallurgical process, a thin layer of polished, harder metal is formed which increases the wear resistance of the metal parts and increases durability by at least a hundred times more. Unlike most other motor oil additives, Polytron MTC does not include any viscosity index improvers (VIIs) or viscosity modifiers. There are also no PTFE (Polytetrafluoroethylene - Teflon is a well-known brand-name) or Molybdenum Disulphide (MoS2) solids.

The purpose of the MTC is to increase the wear life of the metal engine parts by transforming the metallic surface itself to make it harder for more protection and more polished to reduce friction. Reduced friction to almost 90% which will also lead to an improvement in fuel efficiency as well as power. It Eliminates wear of engine/equipment up to 90% which thereby extends maintenance intervals 3 - 5 times and also keeps the engine / equipment parts completely clean with lower operating temperature and noise levels. Contributes to reduction of direct expenses and maintenance costs up to 60%
POLYTRON Lithium Grease (POLYTRON EP-2)
POLYTRON EP-2 Lithium Grease is usable over wide range of temperatures and it does not soften excessively during high speed operation in rolling contact bearings. It also forms a good seal, which minimizes bearing contamination. Made of high quality base lithium complex grease with proprietary wear-eliminating Polytron.

POLYTRON EP-2 Grease, because of it's outstanding properties, is a truly superior performing, multi-purpose grease. It's track record indicates that its use reduces equipment maintenance frequency and equipment downtime 400% - 700%.

In addition, it eliminates up to 95% wear of bearings and other parts. This results in considerably longer equipment life and significant reduction in maintenance costs in non-extreme and extreme operating conditions. It also reduces energy consumption.
POLYTRON Penetrating Lubricant (Polytron PL)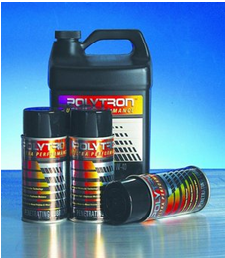 POLYTRON Ultra Performance PENETRATING LUBRICANT (PL) contains POLYTRON MTC and is scientifically blended to be the most effective whenever rust, corrosion, or drag is a factor. POLYTRON PL not only penetrates through extreme rust and corrosion, but also treats the metal surface to reduce friction and eliminate wear.

Use of this product provides for long lasting, smooth operation of any metal mechanism. The number of applications and benefits far exceeds those of any other known product (POLYTRON PL is 20 times longer lasting and more effective than WD-40).

POLYTRON PL can be used for anything from the simplest home needs to the most severe industrial applications. It is highly recommended for general machine shop work like drilling and tapping.
Polytron Fuel Conditioner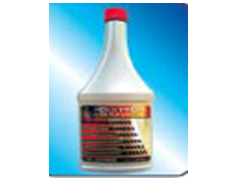 Polytron Ultra Performance fuel Conditioner For Petrol And Diesel Fuels is Scientifically Designed To Improve Combustion. It Cleans And Lubricates the Working Parts of The Fuel System And the Upper Part of The Engine.

Polytron Fuel Conditioner Dissolves And Removes Carbon Deposits And Prevents Future Harmful Build-up. It Also Improves Mileage and Overall Engine Performance
Gerpol Pilot Chair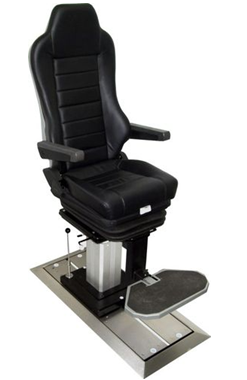 This helmsman chair with included high headrest comes in a sporty design. The side wings in the lower backrest give the operator side support and the chair allows the operator to sit in an optimal ergonomical position.

In combination with our standard lifting column GPS this system is a very interesting non-suspended alternative in comparison to our systems with suspension.

Features:
static seat top
swivel device
adjustable range of backrest inclination 42 degrees
adjustable armrests
slide travel 190 mm
lumbar support
seat cushion tilt adjustment
different upholsteries possible